Beginning with our family of NSAIDs, we are building a broad drug pipeline, expanding beyond pain and inflammation to include gastrointestinal and aging-related diseases.
Antibe's drug pipeline targets large markets in non-addictive pain management. Our lead drug, otenaproxesul (formerly known as ATB-346), has demonstrated gastrointestinal safety as well as efficacy in the treatment of osteoarthritis, a condition affecting 300 million people worldwide. Our second pipeline drug is designed to replace opioids for peri-operative pain, directly addressing a worldwide public health crisis. In the longer term, we will exploit our platform to create drugs that address a range of inflammation-based diseases.

We generate revenue through our wholly owned subsidiary, Citagenix Inc., a worldwide distributor of regenerative medicine products for dentists, periodontists and oral surgeons.

Platform for Anti-inflammatory Pain Management
Nonsteroidal anti-inflammatory drugs (NSAIDs) are the main class of drugs used to treat disorders characterized by pain and inflammation, with global sales exceeding $16 billion annually.1  While highly effective, they cause clinically significant gastrointestinal bleeding and ulcers in approximately 25% of users. Despite this longstanding issue, the efficacy and non-addictive nature of NSAIDs position them as drugs-of-choice for physicians and consumers*, with more than 30 billion doses taken annually in the US alone. Notably, NSAIDs have been shown to be as effective as opioids for many types of pain, but are often contraindicated due to the risk of significant gastrointestinal bleeding.
Antibe's platform targets this major medical problem. By linking a hydrogen sulfide-releasing molecule to an NSAID, we aim to develop a new generation of best-in-class anti-inflammatory, analgesic drugs that do not damage the digestive tract, with the expected benefit of a single tablet administered once-daily, as opposed to multiple daily doses with most NSAIDs.
………………………………..
* Consumers are familiar with aspirin and brands like Advil (ibuprofen), Aleve (naproxen), Celebrex (celecoxib) and Voltaren (diclofenac). Less well-known, the category includes stronger drugs like indomethacin, ketoprofen and ketorolac—effective at reducing severe pain, but correspondingly more damaging to the digestive tract.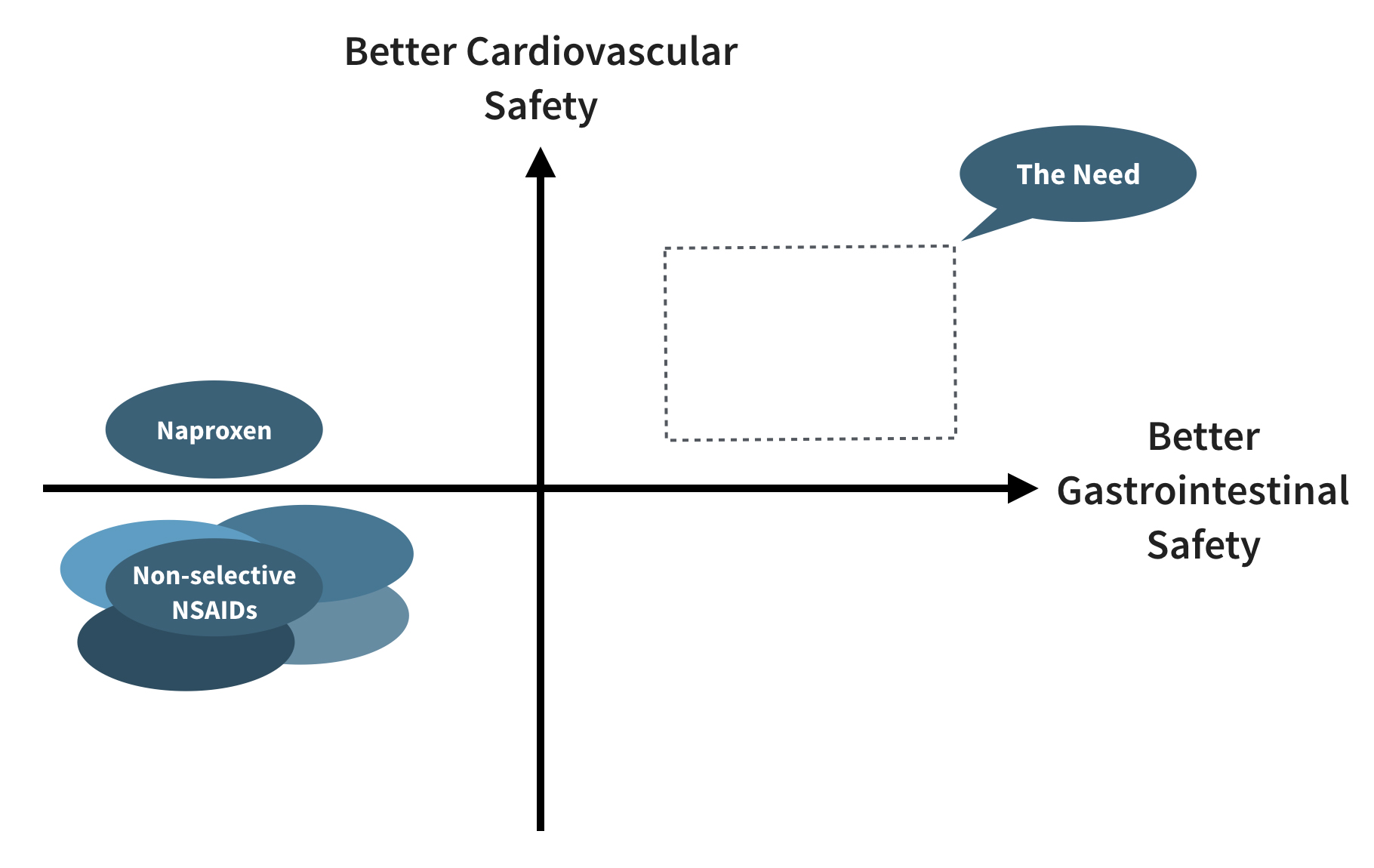 An Unmet Need...
1.   Significant Gastrointestinal Risks

NSAIDs have become the dominant category for treating pain and inflammation. While they are known to be effective, they also pose serious, widely recognized gastrointestinal risks. Protecting the digestive tract without compromising cardiovascular health is the primary market need (upper right quadrant).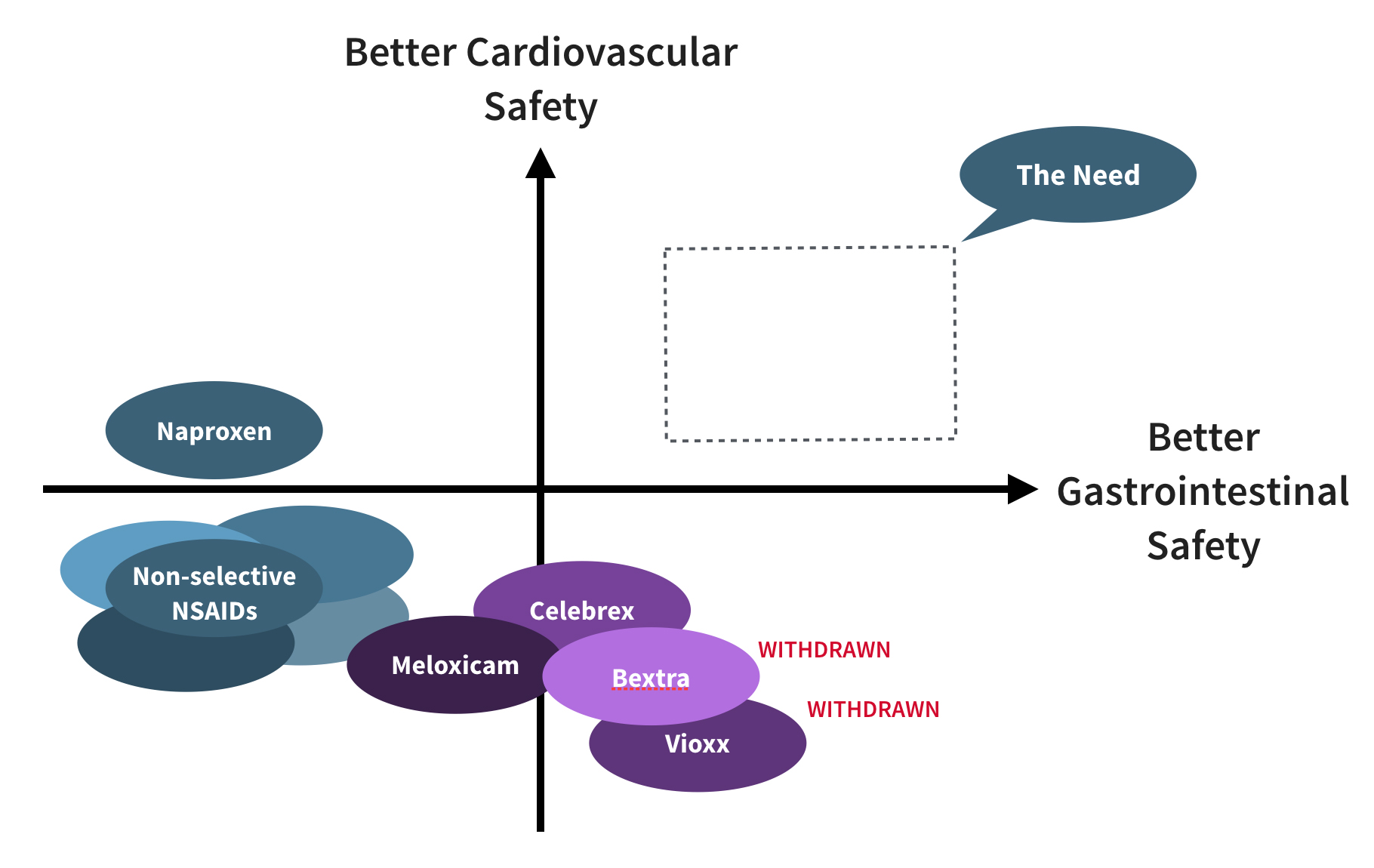 An Unmet Need...
2.  Emergence of Selective COX-2 Inhibitors
Beginning in the late 1990s, "COX-2 selective" NSAIDs were introduced to improve gastrointestinal safety. They were rapidly adopted, with two products reaching $1 billion in first year sales. However, most were later withdrawn or discontinued due to severe cardiovascular events.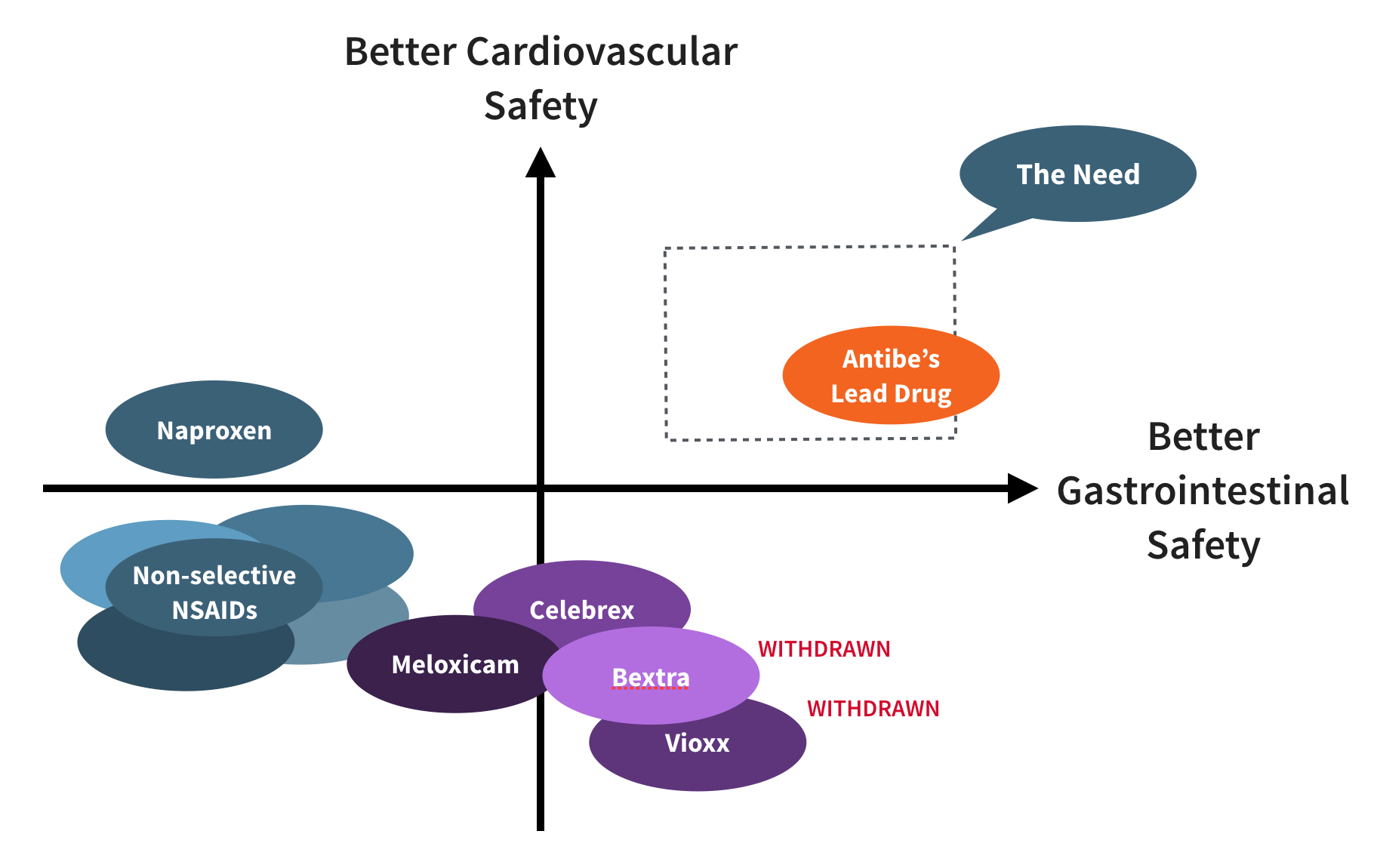 An Unmet Need...
3.  Lead Drug Addresses Major Unmet Need

Otenaproxesul has already demonstrated dramatic gastrointestinal safety compared to naproxen, one of the most prescribed NSAIDs in the US.
Otenaproxesul (formerly known as ATB-346), our lead drug, targets chronic pain and inflammation arising from a wide range of medical conditions. In March 2018, the drug was shown to be unequivocally superior to naproxen in gastrointestinal safety (a 2.5% ulceration rate, compared to 42.1% for naproxen) in a Phase IIB double-blind, head-to-head clinical trial (see March 2019 paper in the British Journal of Pharmacology).
In June 2020, Antibe released top-line results from a Phase IIB dose ranging, efficacy trial, demonstrating analgesic efficacy for osteoarthritis patients at a high degree of statistical significance compared to placebo. Viewed in the light of a meta-analysis of historical osteoarthritis pain trials, WOMAC pain subscale scores for all doses of otenaproxesul (at the two-week mark) reflect well in relation to the average NSAID after a minimum of twelve weeks of administration.2,3   (NSAIDs typically reach maximum efficacy after 6-8 weeks.) Analysis of secondary data also showed strong results for WOMAC therapeutic benefits and profound cyclooxygenase ("COX") inhibition.
Intellectual property
Antibe's intellectual property interest in otenaproxesul is well-protected. Composition of matter patents have been granted in major markets, including the US, EU, UK and Japan. Antibe projects market protection in the US into 2032, and in the EU into 2035.
Commercialization
Otenaproxesul has been licensed in 58 countries to four licensees (see map below). These markets include Canada, China, Israel, Russia and South Korea. The most recent is an exclusive license with Nuance Pharma for the Greater China region, representing approximately 10% of the global pharmaceutical market. Under the terms of this agreement, Antibe is entitled to US$100 million in milestone payments, including US$20 million upfront and US$80 million in development and sales milestones, in addition to a double-digit royalty on sales. 

Our second pipeline drug, ATB-352, targets the urgent global need for a non-addictive analgesic for severe pain, particularly in the peri-operative setting, where many opioid addictions begin. ATB-352 is undergoing IND-enabling studies.
ATB-352 causes negligible GI damage in rats compared to ketoprofen, a very strong NSAID used for acute pain.
Our third pipeline drug, ATB-340, is a gastrointestinal-safe derivative of aspirin for daily use in the prevention of cardiovascular disease and cancer.
Aspirin, but not ATB-340, causes significant bleeding in the rat stomach.
Antibe's drug platform reflects two decades of research by our founder and Chief Scientific Officer, Dr. John L. Wallace, and his colleagues in laboratories around the world. Our research program is overseen by Scientific and Clinical Advisory Boards, comprising fifteen internationally renowned scientists and clinicians, with specialties in pharmacology, gastroenterology, arthritis, and a range of inflammation-based diseases. Antibe strives for the most rigorous level of scientific validation—clinical trials for our lead drug have involved more than 750 participants, including 384 subjects across 39 sites in our Phase IIB dose ranging, efficacy study.
We are building a broad drug pipeline, leveraging our proprietary hydrogen sulfide platform to expand beyond pain and inflammation to include gastrointestinal and aging-related diseases—fulfilling our vision for improving health and quality of life for billions of people.
Antibe's senior team is based in Toronto, Canada. We are supported by a global network of advisors and subject matter experts covering scientific, medical, clinical and regulatory affairs, and business development.
……………………………………
1. Fortune Business Insights (2019).
2. Post hoc analysis. Results do not necessarily predict future efficacy results.
3. NSAID study data drawn from Comparative Pain Reduction of Oral Non-steroidal Anti-inflammatory Drugs and Opioids for Knee Osteoarthritis: Systematic Analytic Review; Smith; S.R., Deshpande, B.R., Collins, J.E., Katz, J.N., Losina, E.; Osteoarthritis and Cartilage; 24: 962-972, 2016.